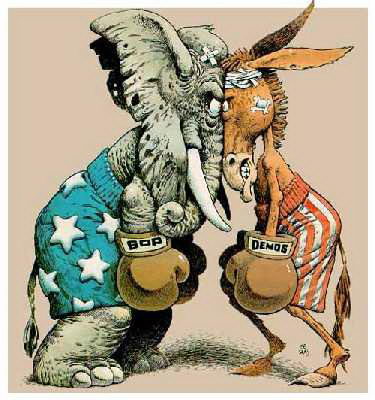 The voting is done and the results are in. I am sitting on the couch in a quiet house (fairly rare with 3 kids!) praying and reflecting. This has been a troubling and divisive campaign season that has tested friendships and brought out strong emotion. Godly men and women have come down on different sides of important issues. Articles have been written and shared as we fought so hard at times to be heard and for what we believe in. However, it was not just the candidates' character put to the test, but each of ours as well. That test did not end today. Tomorrow as we see family, friends and co-workers and as we interact with posts and statements on social media, our faith and discipleship will be on display for better or worse. Some of my friends will be tempted to gloat and vent the anger and frustration in their hearts. Others will be grieving and hurting. The real question to consider though is this. How are we to act when we wake up since we are followers of Jesus? What difference is the light in us going to make to people on both sides of this election? Jesus answers this for us by giving two commands that cover all other commands. Love the Lord your God with all your heart, soul, mind, and strength, and love your neighbor as yourself (Mark 12:30-31). That's the key!  Love God and Love Others. Simple, right? So how do we do this?
Loving God After This Election
Let your attitude show that your trust and hope is in God, not a person. Don't miss this – No matter what side of the results you are on, your attitude can reveal much about where you place your trust. If your candidate won tonight, and you are thrilled because now our problems in America are going to be solved and our nation is saved, your trust is in man, not God. If your candidate lost, or didn't even register on the graph, and you are feeling like hope is lost and this nation is going down in flames, your trust is in man, not God. Don't despair!
When Isaiah was confronting Judah for thinking that pagan Egypt would be their salvation from the Assyrians, and not even considering that God would provide it, he wrote, "Woe to those who go down to Egypt for help and rely on horses, who trust in chariots because they are many and in horsemen because they are very strong, but do not look to the Holy One of Israel or consult the Lord!" (Isaiah 31:1)
Our hope is not in a man or a woman, it is only in God alone. Seek Him! We don't actually know what either of the candidates would have done to or for our country. Sorry to burst your bubble, but you don't know! God does though. And after we have been good stewards by voting, we trust the results to Him. God is always working His plan and it is good and righteous.
 I understand the emotions of winning and losing and there will be some elation or dejection, but when it comes to trust and hope, God's got it covered. His plan is not threatened. The Lord of all creation wasn't surprised at the results and isn't reworking His plan or relieved that His plan didn't get messed up. The basis for our trust and hope has not changed in the last 24 hours! The true, righteous, holy King reigns! Keep your head up on one side, and your nose out of the air on the other. Most importantly, pray for both Mr. Trump and Mrs. Clinton.
We also love God by having more passion for His Kingdom and sharing the Gospel than we did for the election. Our mission has not changed and, quite frankly, it would not have changed or become impossible no matter which candidate won. When people look at you or me, do they see us as first as followers of Christ, or a Trump or Clinton supporter? So show grace in how you talk about each candidate because God has shown you grace. Show forgiveness and patience in how we talk to each other, because God has shown you forgiveness and patience beyond compare. Ask yourself how every word you say regarding this election affects your testimony before you say it. Use every opportunity to expand the kingdom of God. That's the only "political party" that will last.
Matt 6:33-34      But seek first the kingdom of God and his righteousness, and all these things will be added to you.  "Therefore do not be anxious about tomorrow, for tomorrow will be anxious for itself. Sufficient for the day is its own trouble.
Matt 28:19-20    Go therefore and make disciples of all nations, baptizing them in the name of the Father and of the Son and of the Holy Spirit, teaching them to observe all that I have commanded you. And behold, I am with you always, to the end of the age."
Loving Others After This Election
Considering our mission also leads us to Jesus' second command, Love your neighbor as yourself. What are some ways we can put this into practice after the election?
Remember that others may be hurting
You may be thrilled at the results of the election, but chances are high that you know someone who is not so thrilled. They may be fearful of some things President-elect Trump brings to the table and things about his character that are contrary to God's character. This is not the time to gloat or rub in the victory. What would happen if you called them up and just asked how they were doing without saying "I told you so"? Care about them more than politics by listening. Then maybe ask if you both can pray together for our country.
Gal 6:10   So then, as we have opportunity, let us do good to everyone, and especially to those who are of the household of faith.
Don't be an arrogant winner or a bad loser
This is closely related to the first. God has a lot more for you in this life than this election. Enough said.
Speak respectfully of Mr. Trump, Mrs. Clinton, and President Obama
While this may be difficult in an emotional election cycle, this is a practical way we exhibit God's love. All people are made in the image of God. When we make disparaging, sarcastic, and sometimes nasty names for any of them, we are cutting down someone made in the image of God. Instead, commit to praying daily for each of them and watch your heart change! Also, we can speak respectfully of our leaders and still strongly disagree with them. Contrary to popular culture, the two are not incompatible. It just takes work to disagree well and discuss an argument's merits rather than just slandering.
Rom 13:1             Let every person be subject to the governing authorities. For there is no authority except from God, and those that exist have been instituted by God.
1 Tim 2:1-2          First of all, then, I urge that supplications, prayers, intercessions, and thanksgivings be made for all people, for kings and all who are in high positions, that we may lead a peaceful and quiet life, godly and dignified in every way.
Pray for issues that grieve God's heart – they always destroy the common good in a society
We love others by standing up for values that God has said to be true in His Word. Just as it is loving to stop someone from running into traffic, it is loving to stand up against issues that destroy both individuals and society. By continuing to pray and stand up on issues like abortion, racial division, destruction of the family, marriage, and pornography, we show we truly love our neighbor. These are issues all believers can agree on as they are clear in scripture. No matter who we supported in the election, let's stand together against what grieves God's heart.
Think before you post anything on Facebook
Really, I'm not being funny on this one. Think, pray, re-read your post, pray again, then press delete most of the time. If you have to, say good-bye to Facebook for a day or two!
Psalm 39:1           I said, "I will guard my ways, that I may not sin with my tongue; I will guard my mouth with a muzzle, so long as the wicked are in my presence."
Dear Lord, You are holy and righteous. You are sovereign above all and I trust You. I will not worry or forget to trust if things are going well. I ask you to be with Mr. Trump as he prepares to lead our country. Give him wisdom that is from You and use the weight of this position to drive him to You. Surround him with godly men and women. Also, I pray for Mrs. Clinton. She poured so much into this campaign and sacrificed much. Help her to be a voice of unity helping to heal a divided nation. I pray for a peaceful and orderly transfer of power. I plead for our nation to see the sin of abortion and racial division. Open the eyes of our nation to areas we are grieving Your heart. Help the church to equip believers to build strong families and to be salt and light in a dark and needy world. Do whatever it takes to create an environment where many will respond to the Gospel even if that means hard times for our nation that shake marginal Christians out of their facade. Your kingdom come, Your will be done.
In Jesus name, Amen