VBS
Vacation Bible School
Every Summer we run a free VBS program.  Ranging from 100-150 kids every year, our priority in VBS is to make the gospel known to every soul that walks through our doors.  We are committed to teaching the Bible faithfully and always desire to make God first in the lives of our volunteers.  Much prayer, care, and attention is given to our leaders that they might be able to pour out into these kids as well.  We have a team of three directors this year including: Pastor Andrew (A.J.), Patrick, and Nathan.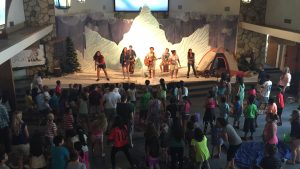 This year (2017) our VBS program is TBA.  It will run from July 17-21 from 9am-12pm.  Participation is free for children from nursery-6th grade (going into 7th).
7th grade and up may volunteer to help lead by submitting an application and being screened/CAPP trained by the Children's Ministry Director.
Signs ups for Volunteers/children sign ups and more information can be found at a later date… here.
If you have any further questions please email: aj@villagebible.com or feel free to call the office.  Thanks and we are looking forward to having you join us this Summer!