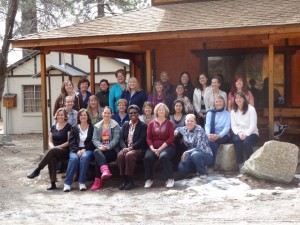 "Charm is deceptive, and beauty is fleeting; but a woman who fears the LORD is to be praised."   Proverbs 31:30
Welcome to the
Women's Ministry Page!
On this page you will find information about upcoming events and ways to get involved with the other ladies at Village Bible Church! Please click on the orange links below to learn more about us and our upcoming events. You can also stop by the Women's Ministry table in the foyer on any Sunday to pick up informational flyers, look through the workbooks for upcoming Bible studies, and find helpful resources.
============================
Upcoming Events
Titus 2 Tuesdays (T2T)
A weekly gathering of ladies for fellowship and discipleship
Women's Bible Study
A weekly study in the Book of Romans – Jennifer Thompson facilitator
Wed. evenings 6:40-8:10 in the college room
Thurs. mornings 9:30-11:00 at the home of Sharyn Dike
Women's Retreat April 24-26  ~ Garden Getaway
 Women's Retreat 2015 (click to see info flyer)
=========================
Women's Ministry Team
Janene Zirges – Director
Susie Johnson
Sharyn Dike 
Amy Powell
Karen Hoisington
As an extension of the ministries at Village Bible Church, our mission is to:
Endeavor to reach out to women in our church and community.

Encourage community through events designed just for women.

Equip and Engage women in the study of God's Word.

Energize women to embark on various ministry opportunities within Village Bible Church.